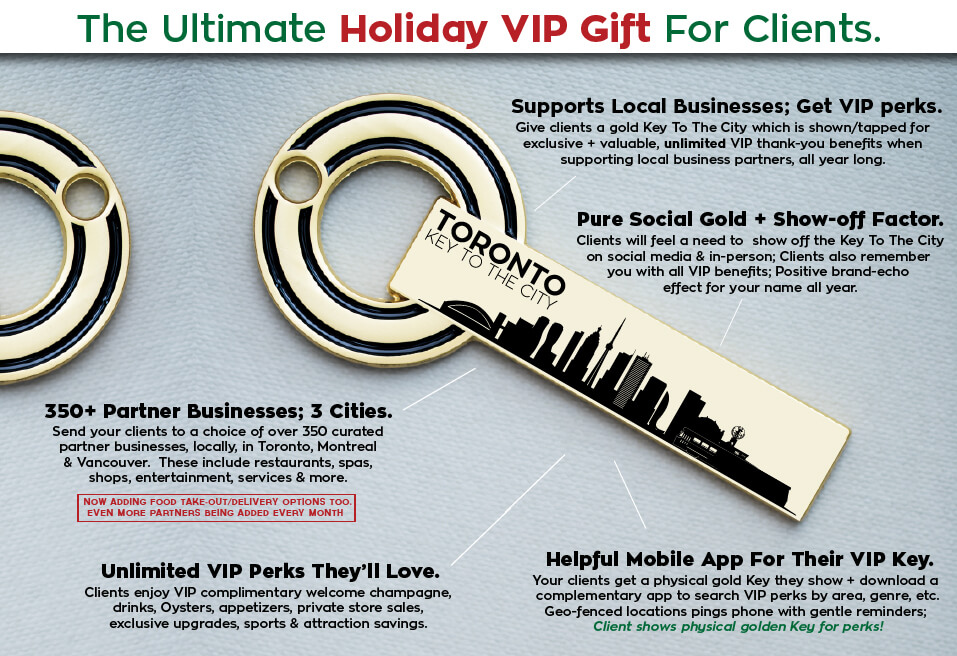 Loyalty is 🔑 and your clients will love it.
The perfect gift for your client is arguably the golden Key that gives back all throughout 2021.  The Key To The City not only gets your recipients unlimited, valuable VIP benefits all year, it also supports local businesses with every time used.  It's all about loyalty respected & returned as a Keyholder.  We have group phenomenal rates for client gifting.
Email us at info@torontocitykey.com to inquire for your client or friend gifting needs.
The VIP Toronto Key has seriously valuable benefits.
300+ partner businesses reward you; Complimentary drinks, appetizers, ticket savings & more await you.  (Perks valued at $18-$600 each visit!)
Feature Video: #SupportLocalTO
Keyholders support local businesses, together. The Key gets you rewards when supporting Toronto/GTA businesses.
Our mobile app is top notch.
Keyholders can search easily; Reminds you when near partners; Notifies you of new invitations.
F E A T U R E D   K E Y H O L D E R   V I P   B E N E F I T S