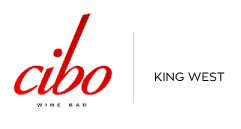 Keyholder VIP Benefit:
Keyholders are welcomed in VIP fashion whenever dining at Cibo Wine Bar locations There are 2 VIP exclusive benefits:
————————–
DINE-IN / PATIO:Show valid Key for complimentary Prosecco or house red/white wine on all dining visits, all year long.
TAKE-OUT:Special surprise added to your order when ordering for pick-up / take-out

THE FINE PRINT:  Cibo Wine Bar locations welcome Keyholders from all 3 cities.  The VIP loyalty benefit is a complimentary special welcome; A choice of complimentary welcome celebration glass of Prosecco, house red or house white wine for the Keyholder whenever dining in, all year long.  Prosecco or red/white wine is only provided for the Keyholder who must be 19+ with valid ID, purchase of an entree is required, limit one per person.Valid at all three Toronto Cibo locations.  Perk has no cash value.  Perk may not be combined with any other offer.   Perk is for Keyholder only.  Cibo Wine Bar reserves the right to change or substitute VIP perk with or without notice.
Cibo Wine Bar: King West   |   522 King St. West, Toronto    |    Ph. 416.504.3939