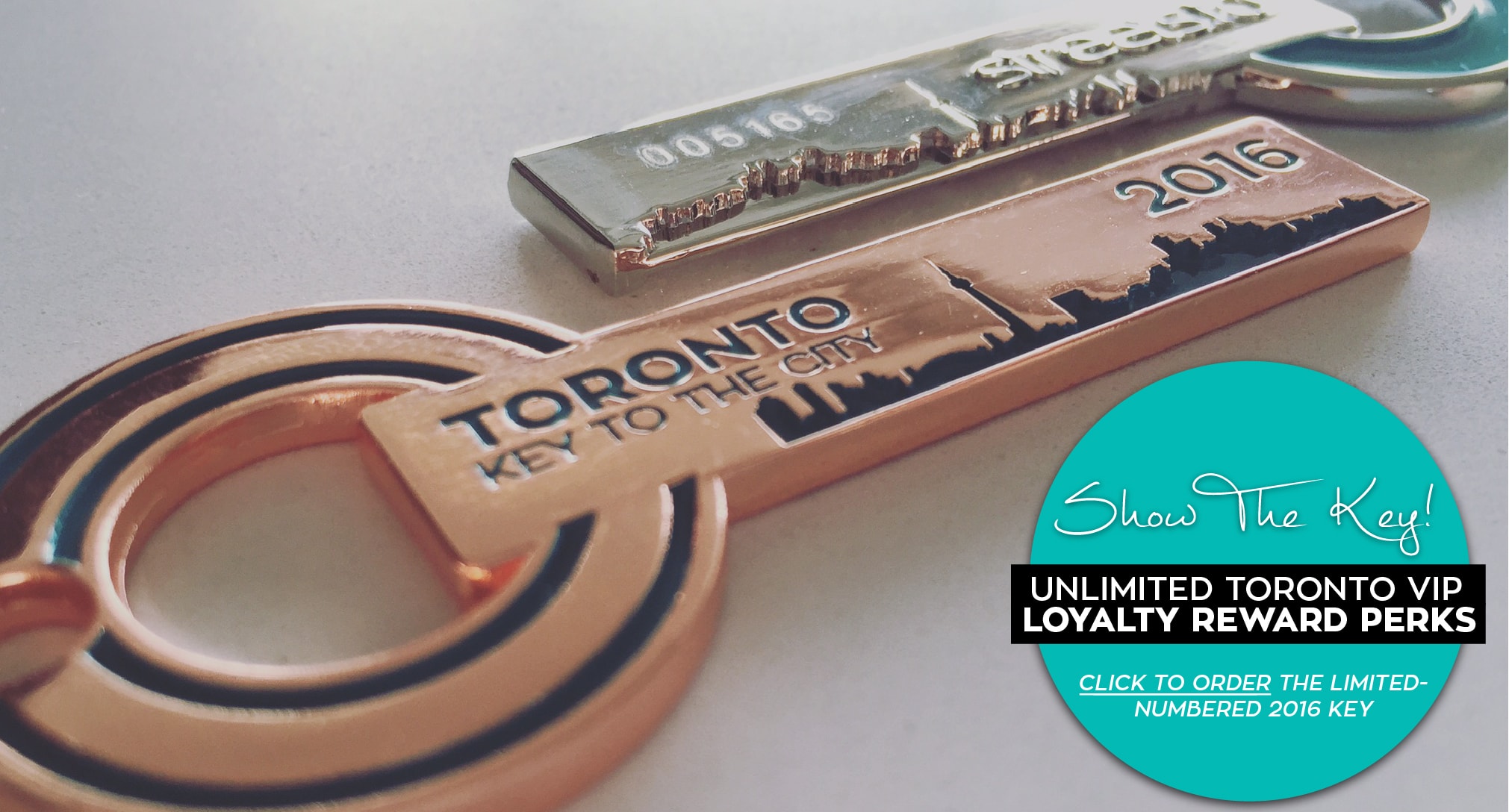 Introducing the Toronto Key To The City – the Toronto loyalty rewards Key you've been hearing so much about.  Unlike traditional cards and loyalty programs, there are no miles or points with our Keys.

Key-holders just enjoy instant loyalty love with every visit, all year, to over 100 of Toronto's best restaurants, spas, boutiques, entertainment and more.  The 2016 Toronto Key To The City is valid to flash for unlimited perks all year long!  We're all about loyalty returned with only the best, curated GTA partner businesses!  The limited-numbered Keys get better every month as we continue to add only the best Toronto business partners who will also reward you instantly in unique VIP ways!   Get yours here!
N     E     W     E     S     T             P     E      R     K     S
---
Some Reviews For Toronto Key To The City
Average rating:
4 reviews
Dec 8, 2015
We're Excited
Got our keys tonight!! When do they ship? Thanks so much.
Dec 8, 2015
Love these keys
I wanted to quickly say we had a blast using our 2015 Toronto keys to the city with a group of girlfriends. It's a cool feeling showing my key to servers at restaurants who accept it and getting a cool perk back. Thanks for all the work you guys do.  I recommend you guys to everyone and the key looks good on my keychain.
Dec 2, 2015
Just Awesome!
I first heard about your keys when you graciously sponsored Habitat For Humanity's Pride Build this year. I purchased 10 keys for clients and friends. I am a big fan of supporting community-minded companies. Kudos.
Nov 23, 2015
Thanks
Okay so where do I start? I gifted your keys to some girlfriends and we really look forward to using them together on girl's night out. We obviously like the perks that we get but also like how your website and app give us new places to try that we maybe haven't heard of or wanted to try. We are excited at getting the new 2016 keys for sure. Thank you, thank you, thank you. :)