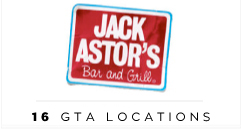 Keyholder VIP Exclusive Perk:
Starting January 15th 2020, Keyholders are rewarded on every dine-in visit to Jack Astor's.*  This VIP exclusive benefit for Toronto Keyholders is available at 16 Jack Astor's locations in and around the GTA (see below for valid locations)
Flash your Toronto Key to your server, on every dine-in visit all year for VIP loyalty-love complimentary appetizer. (Value of up to $18)*
Keyholders welcomed, starting Jan. 15th onwards, with VIP loyalty benefit at:
Yonge & Bloor    |    Dundas Square     |     Front & University     |     Sherway Gardens
Dundas/403     |     Vaughan     |     Brampton     |     Square One     |     Shops at Don Mills
Airport     |     Scarborough     |     Richmond Hill     |     North York
Pickering     |    Whitby     |     Burlington
____________________________________________________
Don't yet have your Toronto Key To The City?   Order your limited-numbered Key here before they're gone for the year.

THE FINE PRINT: * Jack Astor's at 16 GTA locations listed above welcomes Toronto Keyholders in VIP loyalty fashion.  Complimentary Appetizer is a loyalty VIP benefit and rewarded from their 'Shareables' menu when Keyholders spend $25 or more on food items.  Dine-in only.  Perk has no cash value and is exclusive of taxes and gratuities.  Perk is for Keyholder only and must present a valid-year Key To The City to receive this loyalty benefit.  Maximum value of $18.  O­ffer applies to lesser value appetizer.  Limit one per table, per visit.  Not valid with any other off­ers, discounts or promotions.  O­ffer valid at Jack Astor's Front & University location only.    Jack Astor's reserves the right to change or substitute VIP perk with or without notice.  Loyalty is Key at Jack Astor's across the GTA with 16 locations noted herein.
*** THIS BENEFIT STARTS JANUARY 15, 2020. ***
RESERVE YOUR TORONTO KEY TO THE CITY FOR THIS VIP BENEFIT + MORE