Description

2021 TORONTO KEY TO THE CITY – WITH $5,000+ IN AVAILABLE, UNLIMITED VIP BENEFITS
Our 2021 Toronto Key To The City Includes:
* One (1) very limited-numbered, gold 2021 Toronto VIP Key To The City  ($65+ Bonus: Includes remainder of  2020 + Full 2021 Year Access!  Keys ship right away so you enjoy bonus remaining months of 2020 plus all of 2021.)
*  SUPPORT LOCAL BUSINESSES PLUS GET REWARDED:  The Key makes it easier to find local businesses and you get rewarded in awesome VIP ways for your loyalty but also know you are supporting them by doing business with them as a Keyholder.  We thank you for your support in advance, as well.***
* INSTANT ACCESS after ordering the Toronto Key to exclusive Keyholder Dashboard for saving on tickets, games and exclusive event invitations.  Save up to 44% on all CNE tickets this year and next year / Cirque du Soleil Algeria show tickets (15%) / Toronto FC (25%) / Raptors (up to 30% off select game tickets) / Toronto Wolfpack (25%) /  Second City / The ROM / Ripley's Aquarium / Park N' Fly / Toronto Marlies / Toronto Blue Jays + more.  Save on all tickets to shows, events and sports entertainment as a Keyholder.
* NEW:  Access to VIP experience tickets and valuable savings for most shows with Live Nation Budweiser Stage + Scotiabank Arena concerts.
* Access to 300+ VIP benefits across 3 cities including 160+ Toronto VIP curated benefits throughout the year.  (Each VIP benefit valued at $18-$599+ ea.)
* Complimentary bonus access and guide to 150+ Montreal and Vancouver VIP curated benefits throughout the year.  (Benefits valued at $18-$599+ ea.)
* Mobile App access to see what's nearby or by category/area + reminders to use your Key as you near certain locations!  Download on Android + IOS
* Exclusive travel savings with 15% off all UP Express trains + 20% off Keyholder and guest access to all airport Plaza Premium Lounges nationwide
* New VIP hot spots and benefits added every month in all 3 cities!
* Keyholder-exclusive invitations and events throughout the year
* Grandfathered rate so your annual rate paid today will never increase, ever, as long as a renewed Keyholder member annually.  Cancel anytime.  
*** BONUS:  2021 Toronto Key To The City shipped or picked up right away so you can enjoy the VIP benefits for the rest of 2020 AND all of 2021.   Existing Keyholders, stay tuned for an email with a special offer coming your way as well.  Thank you for supporting and believing in us during these unfortunate times and for being a Keyholder!  We look forward to brighter times ahead!
* More on the Toronto Key To The City SHOWN BELOW:
_________________________________________________________________________________________________________________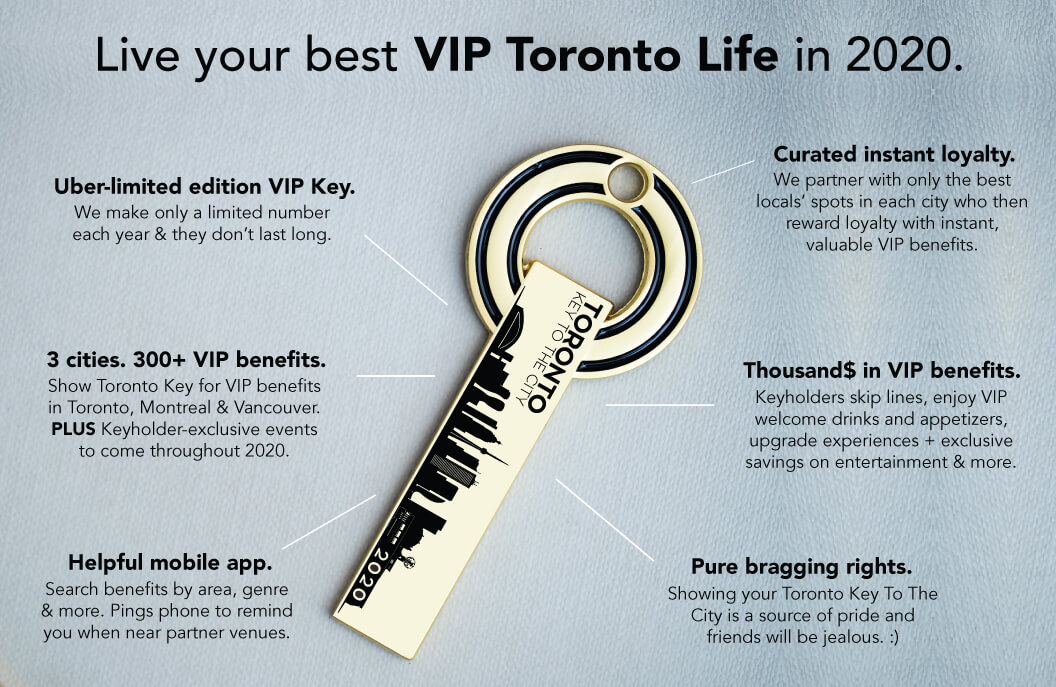 ______________________________________________________________________